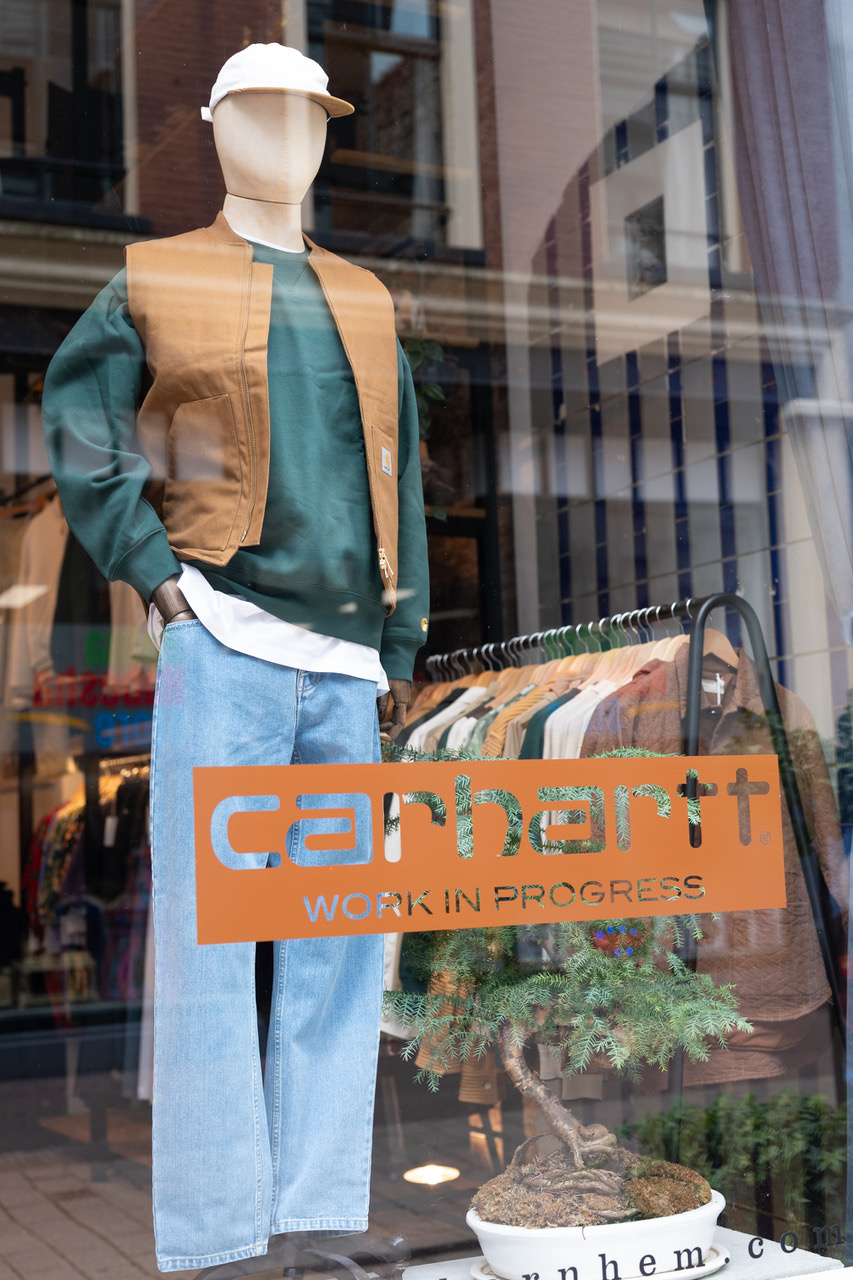 Carhartt Arnhem
Discover the Latest Addition to Neighbourhood's Collection: Carhartt in Arnhem
At Neighbourhood, we're always on the lookout for exceptional additions to our collection, and we're excited to announce that starting July 2023, we'll be offering Carhartt Work In Progress (WIP) in our Arnhem store. Carhartt, a brand with a rich heritage and a reputation for quality, durability, and style, is a fantastic addition to our lineup.
Carhartt Arnhem: A Legacy of Quality
Carhartt is a name synonymous with rugged workwear that's built to last. Established in 1889 in Detroit, Michigan, by Hamilton Carhartt, this American brand quickly gained a reputation for crafting garments that could withstand the toughest of conditions. Over the years, Carhartt's dedication to quality and durability has made it a staple not only in the world of workwear but also in streetwear and fashion.
Carhartt Arnhem WIP: Blending Tradition with Contemporary Style
Carhartt Work In Progress (WIP) is the brand's contemporary line that takes the rugged durability of Carhartt's workwear and infuses it with a fresh urban aesthetic. Carhartt WIP retains the same commitment to quality, but with a focus on fashion-forward designs that resonate with a modern audience.
Why Choose Carhartt Arnhem WIP?
So, why are we at Neighbourhood so excited about bringing Carhartt WIP to Arnhem? Here are a few reasons:
1. Timeless Style: Carhartt WIP's designs are timeless. Whether you're looking for a classic work jacket, a durable pair of pants, or a stylish hoodie, their pieces effortlessly blend function with fashion.
2. Durability: Carhartt is renowned for its rugged construction. Their garments are built to withstand the rigors of the job site, ensuring they'll hold up to your everyday adventures.
3. Versatility: Carhartt WIP's versatility is unmatched. You can wear their clothing to work, to explore the outdoors, or simply as part of your daily urban attire.
4. Quality Materials: Carhartt WIP uses high-quality materials, ensuring that your investment in their clothing pays off in the long run. From heavyweight cotton to durable denims, their fabrics are designed to last.
5. Unique Designs: While staying true to its roots, Carhartt WIP adds a unique twist to its designs, making their clothing stand out in a crowd. It's this blend of classic and contemporary that sets them apart.
What to Expect from Carhartt at Neighbourhood Arnhem
Starting in July 2023, you can visit our store in Arnhem to explore our carefully curated selection of Carhartt WIP products. From jackets to pants, hoodies, and more, we'll have a range of options to suit your style and needs.
One of the highlights of our Carhartt Arnhem collection is the emphasis on quality. Carhartt's commitment to crafting garments that endure means that when you invest in their clothing, you're investing in pieces that will stay with you for years to come.
Visit Neighbourhood in Arnhem for Carhartt Arnhem
If you're in Arnhem or planning to visit, we invite you to drop by our store and experience the world of Carhartt WIP. Our knowledgeable staff will be happy to assist you in finding the perfect Carhartt pieces to complement your wardrobe.
Stay Tuned for Updates on Carhartt Arnhem
Keep an eye on our website and social media channels for updates on the arrival of Carhartt WIP in our Arnhem store. We're excited to share this exceptional brand, Carhartt Arnhem, with our customers and look forward to serving your fashion and style needs.
At Neighbourhood, we're dedicated to bringing you the best in men's fashion, and Carhartt Arnhem is the perfect addition to our carefully curated collection. We can't wait for you to explore the quality, durability, and style that Carhartt Arnhem WIP brings to Arnhem.