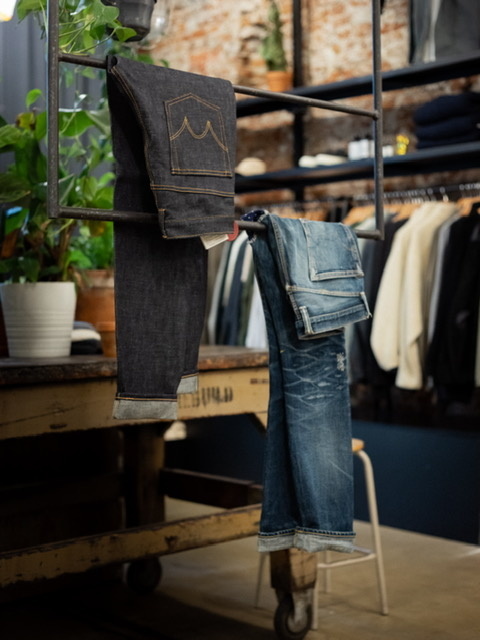 Dry Denim Jeans
Edwin Japan's Regular Tapered Dry Selvage Jeans
In the ever-evolving world of fashion, where trends come and go, one item has remained a steadfast symbol of style, durability, and timelessness – jeans. And when it comes to jeans, one particular category stands out as an emblem of authentic craftsmanship and enduring fashion: dry denim, also known as raw denim. Among the plethora of dry denim jeans, Edwin Japan's Regular Tapered Dry Selvage Jeans hold a special place. These jeans are not just an item of clothing; they are a work of art, a testament to classic craftsmanship, and an embodiment of Japanese denim heritage.
Dry Denim: A Journey Unfolds
The term "dry denim" might be unfamiliar to some, but it encapsulates the essence of a unique and fascinating denim journey. Dry denim, also referred to as raw denim, is, in its purest form, untreated, and unwashed. Unlike pre-washed or distressed jeans, dry denim is a blank canvas, awaiting the wearer's experiences to shape its character. When you first slip into a pair of dry denim jeans, you'll notice that the fabric is crisp, unworn, and stiff. This is because the fabric hasn't been through the traditional washing and distressing processes that are common in the denim industry.
As you wear your dry denim jeans, something magical happens. The fabric gradually molds to your body, creating a custom fit that's unique to you. The denim starts to soften, and with each passing day, it becomes more comfortable, more "yours." It's a journey, a relationship between you and your jeans, where the denim captures the memories of your adventures and experiences.
Selvage: The Mark of Quality
Another hallmark of quality in the world of denim is selvage, a shortened form of "self-edge." Selvage denim features a tightly woven strip on the inner seam of the fabric. It not only prevents fraying but also adds a distinctive, stylish touch to the jeans. Selvage denim is usually produced on narrow shuttle looms, resulting in a denser, more tightly woven fabric. This enhances the fabric's durability and longevity. When you cuff your selvage jeans, you reveal this unique, finished edge, showcasing the craftsmanship that went into their creation.
Japanese Denim: A Legacy of Excellence
Japan is renowned for its contribution to the world of denim. Japanese denim is highly regarded for its quality, innovation, and reverence for tradition. It's often said that Japanese denim is like a fine wine; it gets better with time. The Japanese have mastered the art of reproducing vintage denim using traditional techniques while infusing modern creativity and quality.
The craftsmanship of Japanese denim is evident in every stitch, every weave, and every shade of indigo. These jeans are not just a garment; they're a testament to the dedication of the artisans who craft them. Japanese denim is characterized by its use of premium materials, precision dyeing, and an unwavering commitment to quality.
Edwin Japan: Where Heritage Meets Modernity
Edwin Japan, a prominent name in the denim industry, has been perfecting the art of denim craftsmanship since 1947. With a rich heritage and a relentless pursuit of quality, Edwin Japan's Regular Tapered Dry Selvage Jeans epitomize the brand's dedication to timeless fashion.
The Regular Tapered fit, a highlight of this collection, offers a versatile and comfortable option for denim aficionados. This style combines a relaxed fit in the seat and thigh area with a gradual taper from the knee to the ankle. The result is a balance between classic and contemporary, making these jeans suitable for a wide range of occasions. Whether you're dressing them down with sneakers and a t-shirt or dressing them up with a blazer and boots, the Regular Tapered fit is designed to adapt to your style.
Rainbow Selvage: A Touch of Elegance
When you explore the world of selvage denim, you may come across the term "rainbow selvage." This distinctive selvage edge is recognized by its multi-colored threads, creating a captivating spectrum of colors. It's a testament to the artistry and attention to detail involved in the denim's production. Each thread is meticulously dyed to achieve this beautiful, multi-hued effect, adding an elegant touch to the jeans.
Why Choose Edwin Japan's Regular Tapered Dry Selvage Jeans?
Craftsmanship: Edwin Japan's commitment to craftsmanship is evident in every pair of jeans. Each piece is carefully constructed, ensuring durability and longevity.

Quality Selvage Denim: These jeans are made from premium selvage denim, giving you the classic look and feel of raw denim with added longevity.

Unique Fading: As you wear these jeans, they will develop a distinct fade pattern that tells your story. Over time, the denim will mold to your body, providing a comfortable fit tailored to you.

Versatility: The Regular Tapered fit is ideal for those who appreciate a timeless look with modern comfort. It's versatile enough to pair with sneakers and a t-shirt or dress up with a blazer and boots.
Caring for Your Dry Selvage Jeans
To ensure your Regular Tapered Dry Selvage Jeans continue to look their best, remember to:
Wash Sparingly: Dry denim should be washed as little as possible. Spot clean stains and, if necessary, soak them in cold water to maintain the integrity of the fabric and fade.

Air Dry: Hang your jeans to air dry to prevent excessive shrinkage and to maintain the shape.

Rotate Your Jeans: Having multiple pairs of jeans allows each pair to rest and maintain their quality longer.
In Conclusion
Edwin Japan's Regular Tapered Dry Selvage Jeans are not just an article of clothing; they are a timeless fashion statement. With the perfect blend of classic craftsmanship, quality selvage denim, and a comfortable fit, these jeans are a must-have for anyone who appreciates style and individuality. So, whether you're stepping out for a casual day or dressing up for a night on the town, these jeans will be your reliable companion, adapting to your style and capturing your unique journey in the world of denim.