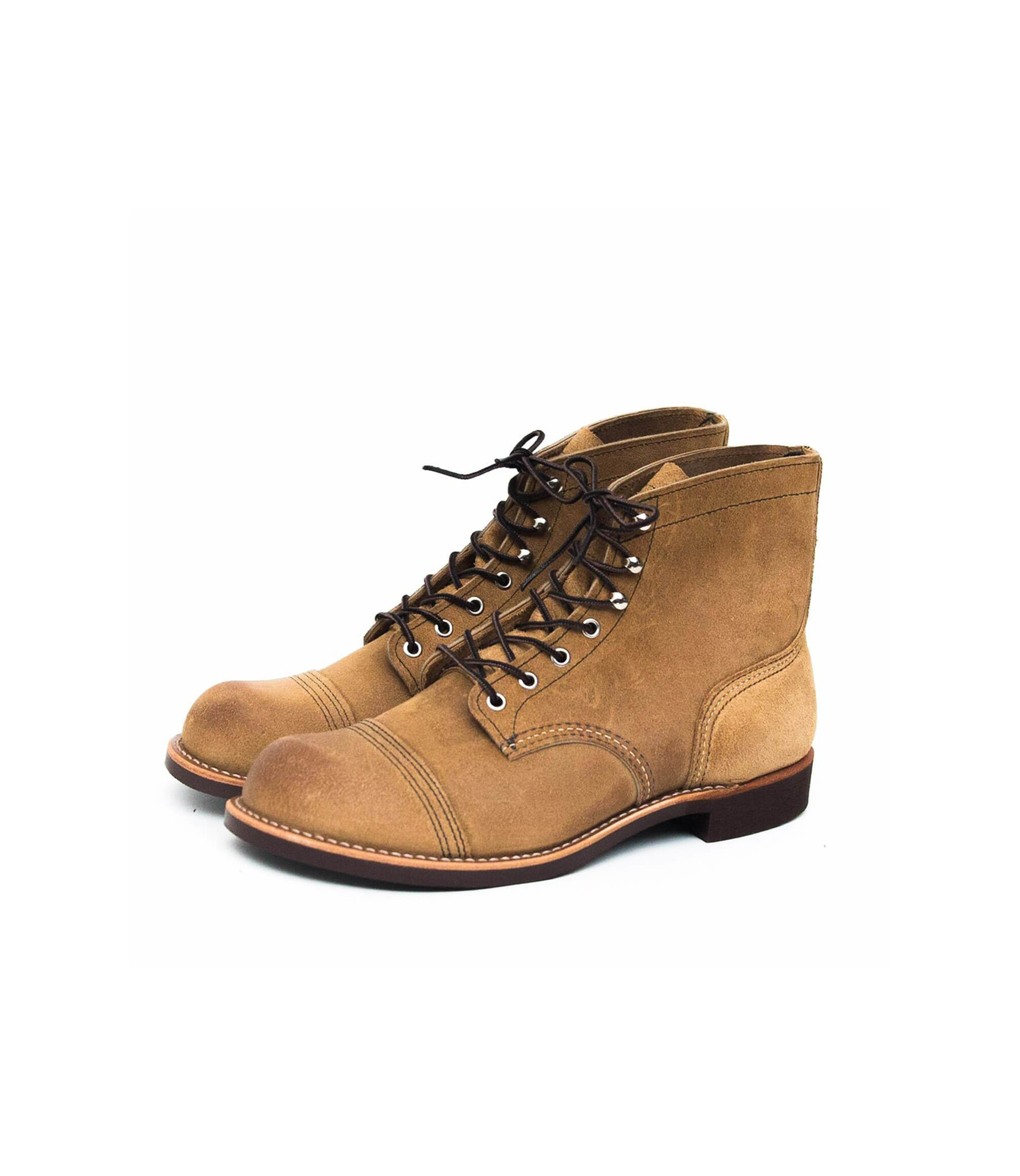 Red Wing Iron Ranger
The Red Wing Iron Ranger: A Heritage Boot for the Modern Man
In the realm of timeless footwear, the Red Wing Iron Ranger stands as an enduring icon. This rugged and handsome boot has been gracing the feet of men for over a century, and its enduring popularity is a testament to its quality, craftsmanship, and versatility. Today, Neighbourhood Arnhem brings this classic American heritage boot to your doorstep.
A Rich History
The story of the Red Wing Iron Ranger begins in the small town of Red Wing, Minnesota, in the early 20th century. Founded by Charles Beckman, Red Wing Shoe Company aimed to create sturdy, durable boots for the demanding work conditions of the local industries, including mining, logging, and farming. These were boots that could withstand harsh terrains, extreme weather, and the test of time.
The Iron Ranger was originally designed to meet the specific needs of iron miners, hence the name. These workers required robust footwear to navigate the treacherous conditions of the mines. The boot's distinguishing features included a cap toe for added protection, a Goodyear welt construction for durability, and a double-layer leather toe cap for reinforcement. Over time, the Iron Ranger's reputation spread beyond the mines, attracting a diverse range of wearers.
Timeless Style
One of the remarkable aspects of the Iron Ranger is its ability to transcend its industrial origins and become a stylish fashion statement. Its classic design is characterized by a distinctive cap toe, speed hooks, and a robust Vibram® outsole, all of which contribute to its rugged aesthetic. This versatile boot pairs well with a range of outfits, from jeans and flannel shirts to tailored trousers and blazers.
Superior Craftsmanship
What sets the Iron Ranger apart is the meticulous craftsmanship that goes into each pair. Red Wing's commitment to quality is unwavering. The boots are handcrafted by skilled artisans who employ time-honored techniques and use only the finest materials. The result is footwear that not only looks good but also feels good and is built to last.
The Goodyear welt construction, a hallmark of Red Wing's craftsmanship, is a process in which the upper part of the boot is stitched to the sole. This method allows the boots to be resoled multiple times, extending their lifespan significantly. As you wear your Iron Rangers, they'll mold to your feet, providing exceptional comfort and a personalized fit.
Built to Last
The Iron Ranger's durability is legendary. The full-grain leather uppers are tough, and they develop a distinctive patina over time, telling the story of your adventures. The oil-resistant, nitrile cork outsoles provide excellent traction and shock absorption, making them suitable for a variety of terrains. These boots are designed to withstand the rigors of daily wear, offering longevity that few other boots can match.
Fit for Every Occasion
The Red Wing Iron Ranger is a versatile boot that effortlessly transitions from the rugged outdoors to urban environments. Whether you're exploring the great outdoors, working on projects, or simply stepping out for a night on the town, these boots can handle it all. They exude a timeless charm that complements casual, business casual, and semi-formal attire.
Available at Neighbourhood Arnhem
At Neighbourhood Arnhem, we are proud to offer the Red Wing Iron Ranger, a symbol of enduring quality and timeless style. We believe that in a world filled with disposable fashion, investing in a pair of Iron Rangers is an investment in a legacy of craftsmanship and durability. These boots are more than just footwear; they are a testament to the value of enduring quality.
Step into the world of the Red Wing Iron Ranger, and you'll experience the fusion of heritage, craftsmanship, and style. These boots are designed to serve you for years, becoming a reliable companion for your everyday adventures. Visit our store in Arnhem and discover the heritage of Red Wing's Iron Ranger for yourself. It's not just a boot; it's a piece of history.
Whether you're embarking on a rugged outdoor expedition or strolling through the city streets, the Iron Ranger is your steadfast companion. It's more than a boot; it's a statement of enduring quality, craftsmanship, and style. Step into a pair today, and discover why the Red Wing Iron Ranger has been a symbol of timeless fashion and unwavering reliability for over a century. Visit Neighbourhood Arnhem, and experience this iconic American boot for yourself.