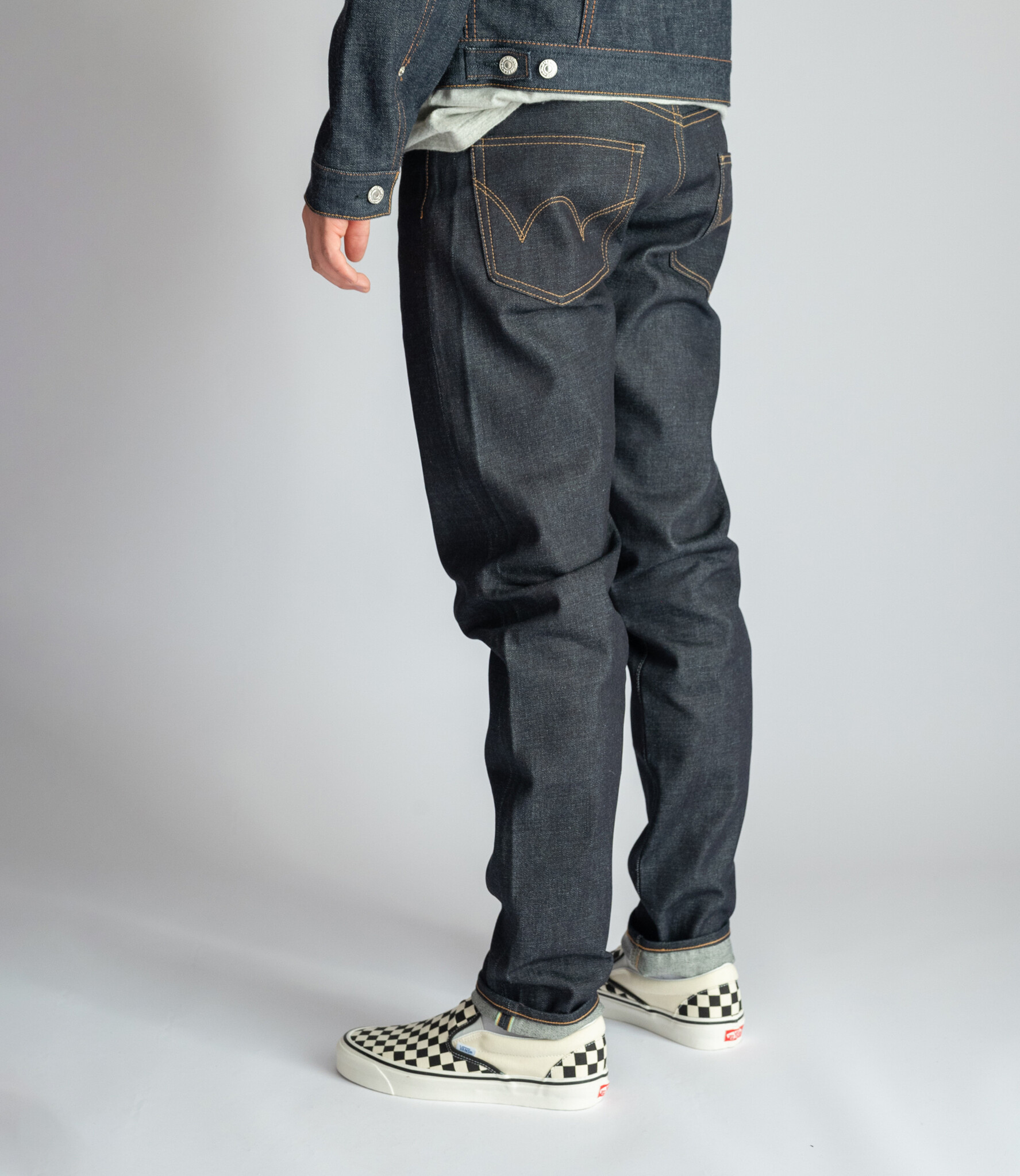 Regular tapered
Edwin Japan's Regular Tapered Nihon Menpu Raw State Jeans at Neighbourhood Arnhem
Step into the world of denim craftsmanship with Edwin Japan's masterpiece – the Regular Tapered Nihon Menpu Raw State jeans, available exclusively at Neighbourhood Arnhem. Immerse yourself in the essence of Japanese denim, where tradition meets contemporary style.
Crafted from Nihon Menpu Raw State Denim:
Edwin Japan takes denim to a new level by using Nihon Menpu Raw State denim, a fabric renowned for its exceptional quality and character. Sourced from one of Japan's most esteemed denim mills, these jeans encapsulate the essence of authenticity and heritage.
Classic Silhouette with a Modern Twist:
The Regular Tapered fit offers a timeless silhouette that complements various styles. The jeans boast a versatile design that effortlessly transitions from casual to semi-formal, making them a wardrobe essential for the discerning gentleman.
Raw State Beauty:
Experience the beauty of raw denim – untreated, unwashed, and in its purest form. The Nihon Menpu Raw State denim ensures that each pair of jeans develops a unique patina over time, reflecting your individual journey and creating a personalized story with every wear.
Precision in Every Detail:
Edwin Japan's commitment to quality is evident in the meticulous craftsmanship of these jeans. From the precise stitching to the durable hardware, every detail is carefully considered to ensure longevity and style that stands the test of time.
Size-Inclusive Comfort:
Available in a range of sizes, Edwin Japan ensures that every man can enjoy the comfort and style of the Regular Tapered Nihon Menpu Raw State jeans. Find your perfect fit and embrace the confidence that comes with wearing premium Japanese denim.
Styled for Every Occasion:
Whether you're dressing up for a night out or opting for a laid-back weekend look, these jeans effortlessly elevate your style. Pair them with a crisp shirt for a polished appearance or embrace a relaxed vibe with your favorite tee – the possibilities are endless.
Get Your Pair at Neighbourhood Arnhem:
Neighbourhood Arnhem is proud to offer the Edwin Japan Regular Tapered Nihon Menpu Raw State jeans, embodying the perfect blend of Japanese craftsmanship and contemporary fashion. Elevate your denim collection with a pair that transcends trends and celebrates the art of true craftsmanship.
Experience the Legacy – Shop Edwin Japan at Neighbourhood Arnhem Today!