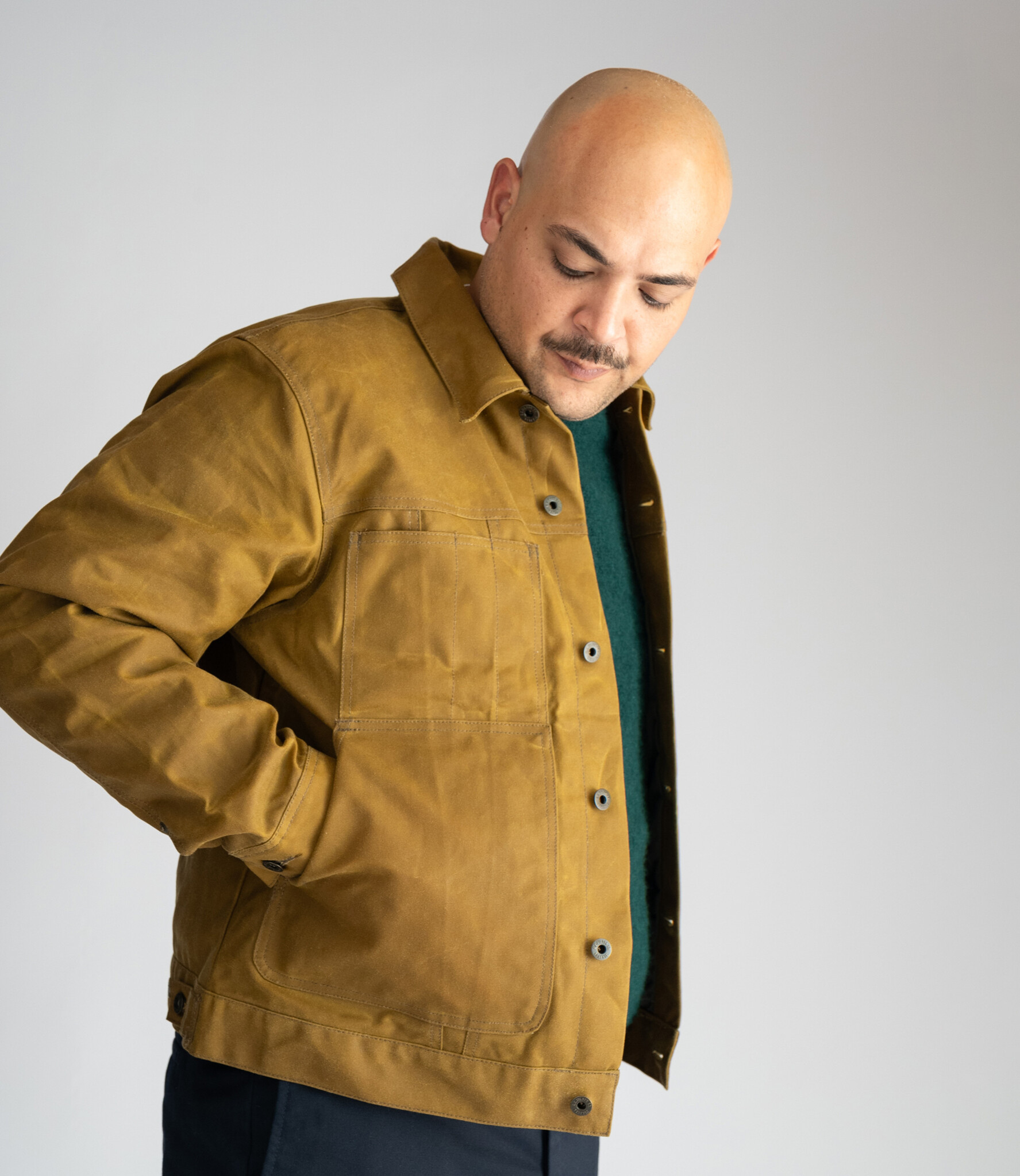 Short lined cruiser
The Filson Short Lined Cruiser: A Classic Blend of Style and Functionality
At Neighbourhood Arnhem, we are proud to introduce you to the timeless and versatile Filson Short Lined Cruiser. This iconic jacket is more than just a piece of clothing; it's a symbol of exceptional craftsmanship and unwavering dedication to quality. Let's delve into the details and history of this remarkable piece of outerwear.
A Versatile Wardrobe Essential
The Short Lined Cruiser is a choice that's built to keep you comfortable in various conditions. Its trim cut is perfect for wearing over a shirt, striking the ideal balance between style and functionality. For those who prefer layering, we recommend sizing up to ensure the perfect fit.
Please note that Filson sizes are in US sizes, and they tend to run larger for those with a European stature. To guarantee that you find the perfect fit, we encourage you to consult our size guide and product measurements.
Uncompromising Quality and Durability
One of the standout features of the Short Lined Cruiser is its construction. It's made with water-resistant waxed Tin Cloth, the same material that has shielded woodsmen and foresters in the rain-soaked Pacific Northwest for over a century. This exceptional fabric boasts an exceptionally tight weave, providing protection against thorny brush, outstanding abrasion resistance, and unmatched durability.
The hip-length cut of the jacket ensures easy access to pockets and tool belts while preventing the jacket from riding up when you're seated. The body is thoughtfully lined with our signature dry finish Cover Cloth, while the sleeves feature a slick polyester lining designed for easy layering. The metal wreath buttons are not only functional but add a touch of classic style, securing both the front closure and cuffs.
Functional and Stylish Features
The Short Lined Cruiser doesn't just rely on its heritage for its appeal. It's packed with functional features that make it an excellent choice for various outdoor and everyday activities. The jacket boasts slotted-utility and flapped cargo chest pockets, providing ample space for your essentials. An adjustable hem with a button-tab ensures a snug fit, allowing you to tailor the jacket to your liking.
Specifications
Material: The Short Lined Cruiser is crafted from 14-oz. oil finish Tin Cloth, 6-oz. dry finish Cover Cloth, and durable polyester twill.
Usage: This jacket is versatile and suitable for outdoor adventures, everyday wear, and work-related activities.
Dimensions: You can find the perfect size from our wide range, available in XS to 3XL, as well as M Long to 2XL Long.
Care Instructions
To ensure that your Filson Short Lined Cruiser continues to perform at its best, it's essential to follow proper care instructions:
Do Not Wash or Dry Clean: Instead, simply brush or wipe clean with a damp rag.
Rewax As Needed: Maintaining maximum water resistance is easy – just rewax the jacket as required.
Prevent Oil Transfer: Avoid prolonged contact between your Filson oil finish goods and light-colored fabrics, especially in warm weather.
A Legacy of Quality
The Filson Short Lined Cruiser is a testament to a legacy of uncompromising quality and craftsmanship. Founded in 1897 during the Klondike Gold Rush, C.C. Filson's outfitting goods became renowned for their durability and reliability. This commitment to quality continues today, and it's the reason why the Filson name is synonymous with rugged, enduring outdoor wear.
Elevate Your Wardrobe
By adding the Filson Short Lined Cruiser to your wardrobe, you're investing in a timeless piece of American craftsmanship. Neighbourhood Arnhem is honored to offer this classic jacket that seamlessly blends style, durability, and functionality. It's not just an article of clothing; it's a testament to the enduring appeal of Filson's commitment to quality.
Embrace the legacy and discover the Filson Short Lined Cruiser at Neighbourhood Arnhem – where timeless design meets exceptional durability.