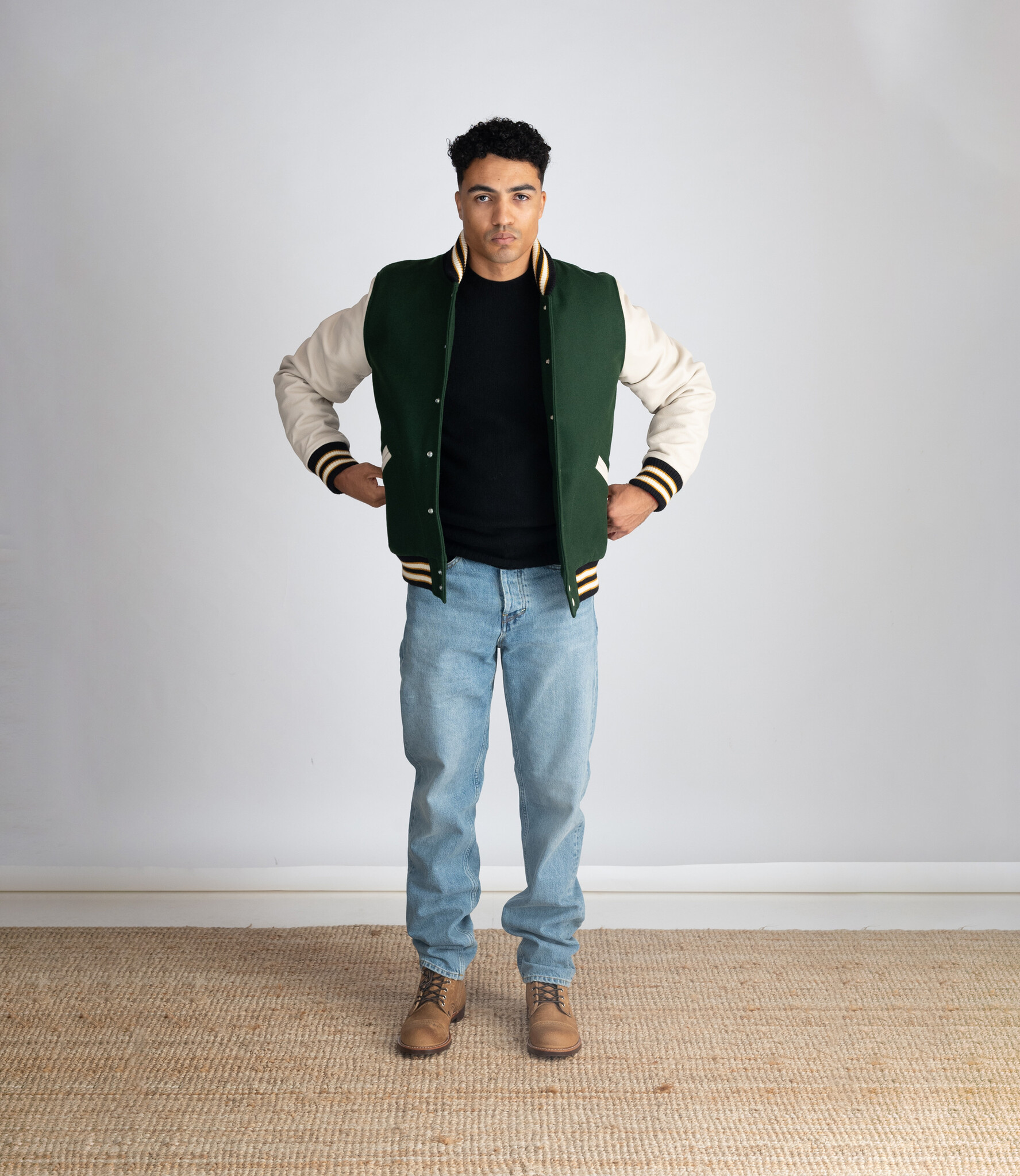 Tenue
Tenue.co: A Denim Brand Rooted in Sustainability and Dutch Craftsmanship
At Neighbourhood, we're not just passionate about offering the best in men's fashion; we're also committed to bringing you brands that share our values. One such brand that we're incredibly proud to feature in our multibrand store is Tenue.co. Founded in Amsterdam, Tenue.co is a denim brand that beautifully marries sustainable fashion with a dedication to Dutch craftsmanship. In this blog, we want to take you on a journey to explore the world of Tenue.co and why we think it's a brand worth discovering.
A Denim Heritage Rooted in Amsterdam
Tenue.co's roots are deeply intertwined with Tenue de Nîmes, an iconic denim boutique in the heart of Amsterdam. Tenue de Nîmes is celebrated for its unrelenting commitment to providing the finest denim, and its reputation extends far beyond Dutch borders. With its rich history and dedication to the craft of denim, Amsterdam has become a renowned hub for denim enthusiasts.
Meet the Mastermind: Menno van Meurs
At the helm of Tenue.co is Menno van Meurs, the founder who has been instrumental in shaping the Dutch denim landscape. With his background in denim retail, Menno's vision for Tenue.co is built on an uncompromising commitment to sustainability, quality, and personalization. He believes that good denim should be a reflection of your individuality and, at its core, sustainable.
Sustainability: A Core Pillar
What sets Tenue.co apart is its unwavering commitment to sustainable practices. Sustainability is more than a trend; it's a philosophy that's at the heart of everything Tenue.co does. From using eco-friendly materials to supporting local production, every decision is guided by a genuine desire to make a positive impact on the environment.
Eco-Friendly Denim: A Step Towards a Greener Future
One of Tenue.co's notable achievements is its emphasis on eco-friendly denim. The brand often incorporates sustainable materials, such as organic cotton, into its collections. Not only does this reduce the environmental footprint, but it also ensures that you're wearing denim that's been carefully crafted with the planet in mind.
Transparency in Manufacturing
Tenue.co believes in honesty and transparency. They want you to know exactly how your jeans are made. That's why they have chosen to be open about their manufacturing processes. By choosing Tenue.co, you're supporting a brand that champions ethical and transparent practices.
Dutch Craftsmanship: A Tradition Upheld
The Dutch are renowned for their precision and dedication to craftsmanship, and Tenue.co is no exception. Every pair of jeans and denim product from Tenue.co is crafted with meticulous attention to detail, upholding the rich tradition of Dutch craftsmanship. These jeans are built to last, embodying the spirit of quality over quantity.
Personalization: Your Jeans, Your Way
A unique feature of Tenue.co is the opportunity to personalize your denim pieces. With a wide range of options, you can create jeans that are a true reflection of your personal style. This commitment to individuality is a testament to the belief that every person is unique, and your jeans should be, too.
Available at Neighbourhood: Discover Your Tenue
We are thrilled to be your destination for Tenue.co's exceptional denim pieces. At Neighbourhood, we're not just a store; we're a community of individuals who appreciate quality, sustainability, and timeless style. Tenue.co aligns perfectly with our values, making it an ideal addition to our multibrand store.
Join Us in the World of Tenue.co
Whether you're an Amsterdam local or a denim enthusiast from across the globe, Tenue.co is a brand that invites you to explore its world. It embodies the spirit of sustainable fashion, Dutch craftsmanship, and personalization. It's a brand that doesn't just sell jeans; it tells a story of individuality, quality, and an unyielding commitment to the environment.
Experience Tenue.co at Neighbourhood
Neighbourhood in Arnhem is where you can experience Tenue.co's unique approach to denim. We are not just proud to feature Tenue.co; we're excited to introduce you to a brand that's redefining the future of fashion.
Conclusion: A Denim Brand for the Future
Tenue.co is more than just a denim brand; it's a movement towards sustainable and personalized fashion. As a brand that's made in Amsterdam and cherished by the Dutch, Tenue.co invites you to discover what the future of fashion looks like. We're delighted to be part of this journey and share it with you. At Neighbourhood, we don't just sell clothes; we share stories, and we're honored to have Tenue.co as part of our narrative.