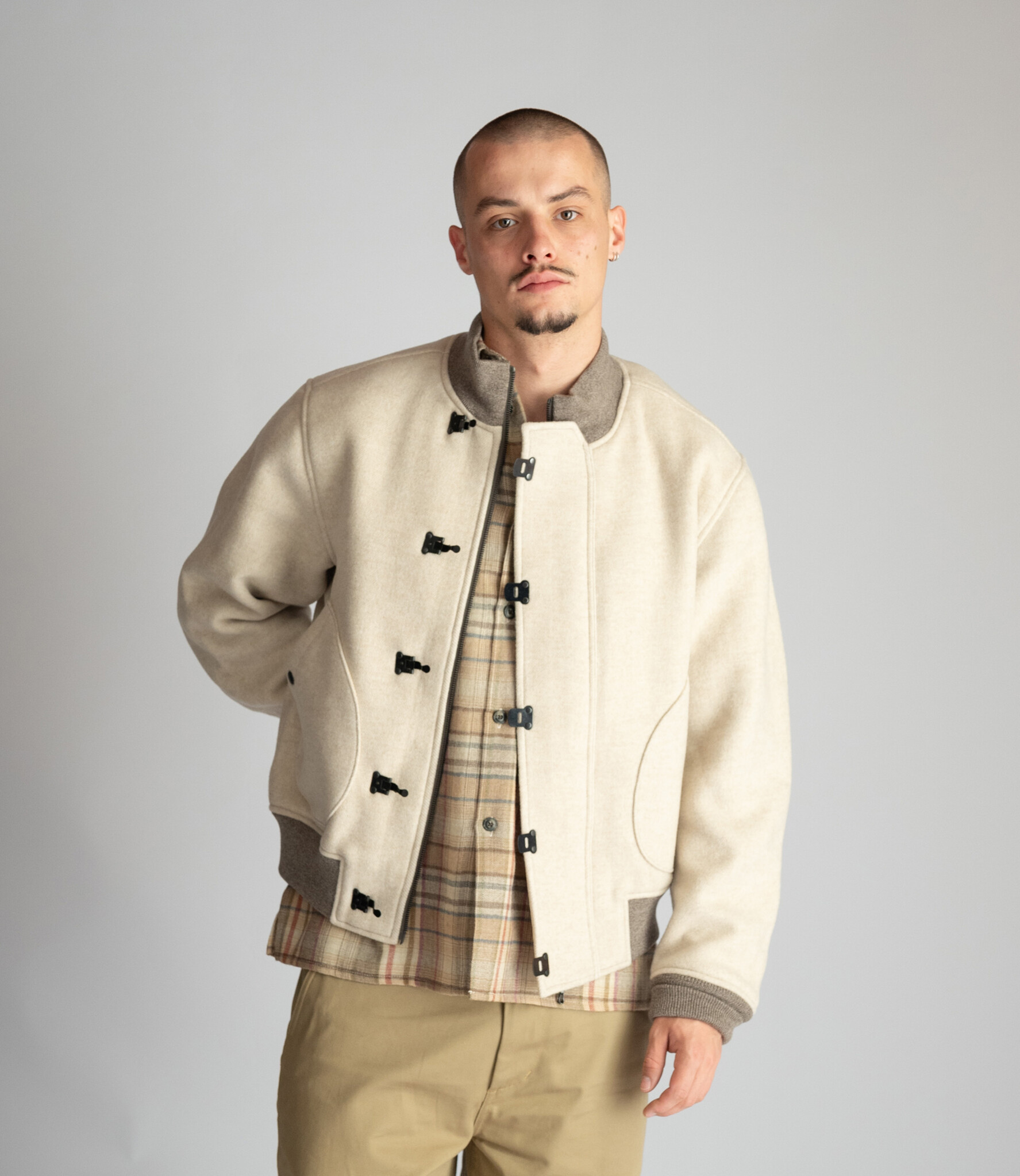 Deck Jacket
Eastlogue's Deck Jacket: Rugged Style and Versatility
In the world of men's fashion, certain garments stand out not only for their style but also for their versatile functionality. The Eastlogue Deck Jacket is a prime example of such a piece, effortlessly combining rugged aesthetics with practicality. In this blog, we delve into the history and craftsmanship behind the Eastlogue Deck Jacket, a staple for those seeking both form and function in their wardrobe.
A Glimpse into Eastlogue's Heritage
Eastlogue, a brand rooted in Seoul, South Korea, has garnered recognition for its ability to blend traditional designs with a contemporary twist. It draws inspiration from military and workwear pieces, transforming them into modern-day essentials.
One of Eastlogue's standout creations is the Deck Jacket, a design inspired by vintage military attire. This jacket pays homage to the garments worn by naval personnel and has evolved into an iconic fashion piece that transcends its historical origin.
Deck Jacket: The Perfect Fusion of Style and Utility
The Deck Jacket is revered for its versatile design, making it suitable for various occasions. Its rugged exterior exudes a sense of adventure, while its impeccable tailoring ensures it retains its place in the world of refined menswear.
One of the defining features of the Deck Jacket is its ability to provide warmth and protection against the elements, thanks to its robust construction. Crafted from durable materials, it serves as a reliable companion for outdoor adventures. This combination of style and utility is what has made it a must-have for many fashion-conscious individuals.
The Craftsmanship Behind the Deck Jacket
Eastlogue's commitment to quality craftsmanship is evident in every detail of the Deck Jacket. The brand uses premium materials and employs skilled artisans to create a jacket that boasts both durability and comfort. Each piece is carefully constructed to stand the test of time, ensuring its longevity in your wardrobe.
The jacket typically features a water-resistant outer layer, providing protection against rain and wind. Its cozy interior lining offers warmth, making it suitable for cooler weather. The combination of practicality and style sets the Deck Jacket apart from many other outerwear options.
Versatile Styling Options
What makes the Deck Jacket truly appealing is its versatility in styling. It can effortlessly transition from a rugged outdoor look to a more refined urban ensemble. Pair it with denim and a classic white T-shirt for a laid-back, casual appearance, or layer it over a collared shirt and chinos for a smart-casual outfit.
Its neutral color palette allows you to mix and match with ease, making it a valuable addition to your wardrobe. Whether you're heading out for a weekend hike or attending a social gathering, the Deck Jacket can adapt to your styling needs.
The Timeless Appeal of the Deck Jacket
In the world of fashion, trends come and go, but certain pieces remain timeless. The Eastlogue Deck Jacket is one such item, firmly rooted in history yet relevant in the contemporary fashion landscape. Its enduring popularity is a testament to its timeless appeal.
When you invest in a Deck Jacket from Eastlogue, you're not just adding a stylish outer layer to your wardrobe; you're acquiring a piece of history and craftsmanship that will serve you well for years to come. It's a nod to the past and a step into the future, bridging the gap between classic and modern style.
In Conclusion
Eastlogue's Deck Jacket stands as a symbol of the brand's commitment to quality, style, and functionality. Its rich history, combined with meticulous craftsmanship, ensures that this piece continues to capture the hearts of fashion enthusiasts around the world.
At Neighbourhood, we take pride in offering a curated selection of Eastlogue's finest pieces, including the iconic Deck Jacket. Explore our collection and discover the perfect blend of style and utility that this renowned brand has to offer.